Obituary for Beatrice Price
Bea Price departed this life and went to claim her eternal heavenly reward on November 28, 2018 at the age of 101, just twelve days shy of her 102nd birthday. .
Birdie Beatrice Brooks was born on December 10, 1916 at her home near Hobson, northeast of Wetumka, OK. It was an extremely cold day; the doctor who arrived via horse and buggy to deliver her had to cross the north Canadian river, resulting in icicles forming on the horse's harness. When Bea was only ten days old, her family moved to Sutton Place, east of Hobson school. She lived in this area until age ten. She then moved near Pleasant Ridge and attended school there, eventually starting to school in Wetumka in the eighth grade. Her family made many moves in her early years. Bea recounted that their houses were often barely holding together. The house where she was born had so many holes in the roof that one could view the stars through the gaps in the shingles. Bea said that although the depression years were lean, she never felt like they were poor or deprived, because everyone else was in the same shape as they were. After completing her years of schooling in Wetumka, she married Ernest Lee Price in July of 1934. Ernest and Bea were farmer/ranchers for many years on their place south of Wetumka. She was an equal partner in the farm work, helping to build fence,(even digging post holes by hand the day before her first child was born!), working the cattle, plowing the corn, operating machinery, and running a successful egg-selling/delivery service for many years. When Bea was 26, she became a Christian, attending the Texas Banner Church of God. Her sister-in-law Lorene had invited her to church many times, & although she went to the altar to give her heart to the Lord, she recalls that her real salvation experience occurred in the cornfield the next day. She knew the experience was real because her forgiveness felt so great that she declared she felt "as light as a feather" and could have floated out of the field! For many decades she served as a youth leader, a Sunday school teacher, a cook for church dinners, and throughout it all, a mighty prayer warrior. She always started her prayers with, "My loving heavenly Father". Over the years, Bea made and gave away hundreds of aprons to church newcomers, friends, and family members.
Bea enjoyed camping, fishing, playing dominoes, visiting with friends, listening to bluegrass music, and playing checkers. Everyone in her family looked up to her and admired her for her strength, her love of life, and her dedication to God and her family.
In February of 1985, her husband Ernest died. She mourned his loss greatly, and was terribly lonely, so God sent another wonderful man into her life. She married Albert Marsh in September of 1988. They had twenty-six years together before Albert passed away in August of 2014.
In addition to being preceded in death by both her husbands, she was also preceded in death by her parents, John and Addie Brooks, two sisters, Inez Dilday and Alpha Miller, one brother Finus Brooks, her brother-in-law and sister-in-law, Aubrey and Lorene Price, and her son-in-law, Robert Loftis. She is survived by two daughters, Melba Loftis of Tulsa, and Mildred (and Dale) Proctor of Wetumka; two step-daughters, Barbara (and Denny) Wilbanks of Calvin, and Peggy (and Dub) Tatum of Holdenville; five granddaughters, Barbara (and Pat) Fowler of Edmond, Roberta (and Jay) Jeffrey of Holdenville, Joy (and Matt) Niles of Tulsa, Nancy (and Yates) Adcock of Dustin, and Dianna (and Reed) Voigt of Dustin; eleven great-grandchildren, Jeremy Fowler, Melissa Felt, Jason Jeffrey, Brenda Schiesel, Beth Bounds, Jake, Andy & Stella Niles, Colton & Nicole Adcock, & Faith Voigt, eight great-great grandchildren, and a host of other relatives and friends whom she has influenced positively.
A celebration of Bea's life will take place 1:30 p.m. Thursday December 6, 2018 at the Texas Banner Church of God under the direction of Hudson-Phillips Funeral Home. Pastor Joe Lunsford will be the officiating minister; interment will follow at the Holdenville Cemetery. Although she did not carve out a name that will be remembered in history, Bea's departure will leave a hole in the hearts of her family and friends, but she also leaves behind a legacy of Christian service and example, which fills our hearts with joy and gratitude, and with many cherished memories. She used her gifts, her abilities, her prayers, and her love to influence many people to follow Christ. No doubt God welcomed her into heaven, proclaiming, "Well done, my good and faithful servant."

The family will greet guest from 6:00 p.m. till 8:00 p.m. Tuesday December 4, 2018 at Hudson-Phillips Funeral Home.
In lieu of flowers please make donations to the Texas Banner Church of God Activity building fund.

To send flowers or a remembrance gift to the family of Beatrice Price, please visit our Tribute Store.
Previous Events
Funeral Service
Texas Banner Church of God
3075 US 75
Wetumka, OK 74883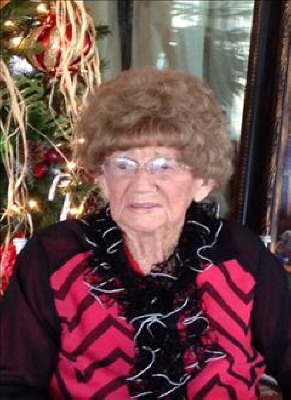 Thank you for sharing your
memory of Beatrice
Provide comfort by sending fresh
flowers from our local florist.
No thanks, please don't show me this again.