Obituary for Ruth Brooks


Ruth Dell Brooks, a resident of Wewoka, Oklahoma, who was born and raised in Holdenville; peacefully departed this life, Friday, November 16. She was 90 years old. Ruth was plucky; a tenacious and persevering soul; outspoken, original and authentic! Among her great, mortal passions were a love of oil painting; big-band, jazz and gospel music; planting beautiful flowers; and bird-watching anytime, particularly in the morning. She enjoyed reading and later, being read to; taking a walk; a nice cup of black coffee or a tall glass of buttermilk; dining out at every opportunity; dessert first! She loved baking legendary cookies for her children and grandchildren; visiting loved ones; hairdressing and shopping with her daughters; bravely traveling alone to wherever her youngest daughter happened to reside; and taking drives through the countryside or about town just for the adventure, particularly when she was no longer able to navigate on her own. She was a young, military wife during World War II, moving to Kentucky, California and elsewhere, which only fine-tuned her well-regarded independent streak! During Ruth's golden days of youth, she loved dancing and socializing at the Country Club and participated in numerous, organized, charitable events and activities throughout the years. She was an active parent. Yesteryear's amazing version of today's stay-at-home "soccer mom," always available to her children; shuttling them to and from; providing encouragement and inspiration; setting a courageous, kind and loving example as an absolute priority. We will miss her presence, tremendously, but her energy and imprint on this world shall forever remain.

Prior to retirement and long-term illness, Ruth worked for many years at Moore's IGA in Wewoka; acted as a familial Caregiver; and fulfilled important, customer service roles in the family business, Brooks Oil Company; and Brooks and Tallant (commonly referred to as "the Little Store"); alongside her husband of 28 years, Gulf Oil Proprietor, John Edwin Brooks III. She was an esteemed member of the Orchid Unit Garden Club, a local, service club, initially joining in the early 1960s. Prior to her death, she was the oldest, living honorary member.

Ruth is preceded in death by her parents Vonnie Lee and Jewel Faye Roberson of Holdenville; James Vernon Roberson, brother, Ferris, Texas; Melvin Kenneth Tallant, husband, Holdenville; and John Edwin Brooks III, husband, Wewoka.

Surviving children include: Kenneth Tallant and fiancee Karen Cravens, Oklahoma City; Janice and husband, Billy Conn, Wetumka; Diana and husband, Keith Claybrook, Wewoka; John Brooks IV, Oklahoma City; and Robin Brooks, formerly of Palm Springs, California.

Ruth's grandchildren include: Christopher Conn, Fayetteville, Arkansas; Jennifer Conn, Seminole, Oklahoma; Todd Tallant and wife, Ashley, Blanchard; Chadd Claybrook and wife, Lisa, Fayetteville, Arkansas; Courtney Ward and husband, Chadd, Wewoka; Kristin Whitlock and husband, Brian, Wewoka; and beloved Grand-Dog and domestic napping buddy, Glenda!

Fifteen great-grandchildren include: Caleb, Case and Cade Conn; Kameron, Syreena, Brooklyn and Ayden Tallant; Lillian and Miller Claybrook; Cole and Crosby Ward; Connor, Cooper, Carter and Evelyn Ruth Whitlock.

Nephews and spouses, include: Jim Roberson and wife, Debbie, Big Bear, California; Jeff Roberson and wife, Linda, Houston; Greg Roberson and wife, Tammie, Las Vegas; J. William "Little Bill" Brooks and wife, Nancy, Sugar Loaf Key, Florida; J. Augustus "Gus" Brooks, DVM and Gina Costa, White Lake, Michigan; Niece, Laura Brooks,Yarmouth, Maine; sister-in-law, Liz "Betty" Brooks and (J. William "Bill" Brooks),Yarmouth, Maine; Brian Roberson and wife, Maridee, Montgomery, Texas; Beth Savino, Studio City, California; Jessica Brooks Gibson and wife, Megan Gibson, Chicago; J. William "Bo" Brooks, Birmingham, Michigan.

Ruth had many old friends, new friends, champions and supporters along life's journey, including lifelong friends, MaryAnn Katigan and Norma Veazey, both deceased; and Nina Baxter, formerly of Holdenville. The immediate family would like to especially acknowledge the longtime friendship, love, caregiving, pet-sitting and overall assistance of Connie Massey, Wewoka; healthcare providers, Dana Roulston and the Caring Connection team, Wewoka; the entire Heartland Hospice team, Shawnee; Raneice Roulston Cooper, Wewoka; Shawna Carl, Oklahoma City; Jeanne and Irene McIntyre, San Diego; and special cousin, Billy Wayne and wife, Carolyn Roberson, Tulsa.

Private graveside services will be held Friday, November 23 at 2:00 p.m. at Oakwood Cemetery. A public, memorial celebration is planned for mid-January.

To send flowers or a remembrance gift to the family of Ruth Brooks, please visit our Tribute Store.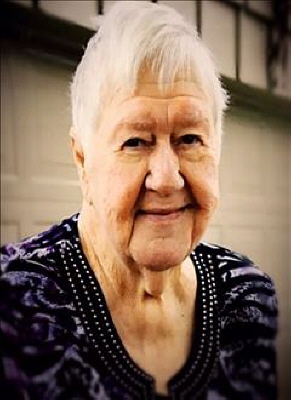 Thank you for sharing your
memory of Ruth
Provide comfort by sending fresh
flowers from our local florist.
No thanks, please don't show me this again.