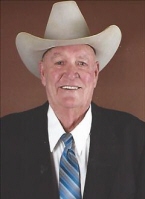 Obituary for Monroe Hodges
Monroe M. Hodges, age 81 of Ada, passed from this life on Sunday, October 29, 2017 at home with his family by his side. Monroe was born on September 12, 1936 to Earl Mae and Luther Martin Hodges near Ada, Oklahoma. He was the youngest of four children.

Preceding Monroe in death were his parents, two sisters Louise Hensley and Jean Flowers Freeman as well as special friends Lemoine and Jane Dodson of Florida.

Monroe is survived by his wife of 59 years Marilyn "Dusty" Hodges of the home, two children Jimmie Gentry and Irvin Hodges, both of Ada; grandchildren Casey Gentry and wife Deidre, Heath Hodges and Taylor Hodges, all of Ada, one sister Joyce Brown of Yukon, Oklahoma; children of special friends, Jeff Dodson, Shaun Dodson, Tenley Dodson and Ike Dodson all of Florida and Deresa Gray of Ada, Bo Leach of Oklahoma City, and Dixie Wheaton of Mounds, Ok and Richard Truitt of Stonewall, Oklahoma.

In his early years, Monroe attended Ahloso Grade School and then graduated from Stonewall High School. While at Stonewall, he played guard on the 1955 State Championship basketball team for Red Roberts. He was named to the Allstate team as well as being named All American. Monroe then went on to play college basketball under Hank Iba for Oklahoma State University. Returning to Ada, he then played basketball for East Central University and was catcher for the baseball team. The Tulsa World named Monroe one of Oklahoma's Greatest Athletes in the June 29, 2003 edition. Monroe was also a rodeo standout. His influences were Dick Truitt and Everett Shaw, both are members of the Cowboy Hall of Fame.

Monroe married Dusty Irvin in 1958 in Oklahoma City, Oklahoma. They lived in Tulsa where Monroe was employed with American Airlines, before making their home on a ranch in Drexel, Missouri. Monroe managed the Irvin Ranch while spending 30 years of his career working for Oppenheimer Cattle Industry as the head cattle inspector. He later retired to his hometown of Ada, Oklahoma.

Monroe enjoyed many things in life. He loved his family and friends, laughing, having fun, sports, practical jokes, music and his cattle. He will be greatly missed by the many friends and relatives who loved him.

The family would like to extend a special thank you to the caretakers of Monroe during the last weeks of his life. To Brenda Hawkins, Neidra Foley Young, Crystal Minor and The McCortney' s Hospice Staff, thank you for giving exceptional care to Monroe and for being an essential part of our family during this time. We cannot thank you enough for all you have done.

Honorary Pallbearers are Bill Montin, Henry Katz, Doc Domer, Hank Walton, Gary Hamm, Jeff Anderson, Ron Spradling, Roy Hall, Pat O'Neal, Jeff Curry, Hank Morgan, Carl Black, and Mark Kedy.

Services are Friday, November 3, 2017 at 3:00 PM at the Elks Lodge of Ada, Oklahoma. Please send donations in lieu of flowers to the Cowboy Crisis Fund P.O. Box 243 Fittstown, OK 74842, per family request.