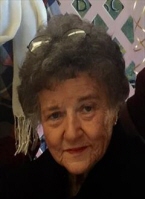 Obituary for Fleta Belle Coppedge
Fleta Belle (Barnes) Coppedge passed away on December 3, 2017 in Oklahoma City, Oklahoma. She was born on September 22, 1936 to Samuel Savoy Barnes and Beatrice (Big) Belle (Keesee) Barnes. Fleta grew up in the Yeager area and graduated from Yeager High School in 1954. It was there that she met her love, Jack Coppedge. The couple married on July 8, 1954, after which they made their home in Oklahoma City. Jack and Fleta Belle purchased a farm near Gum Springs, Oklahoma. Jack moved his family in 1963 to begin a successful career in farming and ranching. Fleta was a member of Alpha Mother's Club, Garden Club and Rose Garden Club. She loved all her children, grandchildren, and great-grandchildren and her sisters Carol Perry and Margie Barnes and her many nieces and nephews and enjoyed visits with each of them.

She is preceded in death by her parents Savoy and Beatrice Barnes, husband Jack Coppedge, and grandson Ryan Savoy Coppedge.

Survivors include her son, Ronnie Coppedge and his wife, Lanette, of Tishomingo; their children: Jennifer Nicole Rowe and husband, Dustin, with children, Price and Madison, of Tishomingo; daughter, Vicki Treadwell and husband, Scot, of Holdenville with children, Natalie and husband, Bryan, and their children, Bryce, Baylee, Brielle, and Kruse, of McLoud; T.J, and
Hanna and son, Sawyer, of Holdenville; and Sara and fiance Richard of Raleigh Durham, North Carolina; Sharon Long and husband, Chuck, of Cashion, and her children, Jordan, Andrew and Karla and their child Victoria and Alec and his wife Katy with their children Presten, Sophie and Cooper, all of Holdenville; Wallace Coppedge and his wife Robin, of Tishomingo, with their children: Ashlee and husband Mikie with children Corey, Emmett, and Easton of Dickson, and Paige and husband Christian of Allen, Texas, and son Jack and his wife Haley of Ardmore and their son Jack. Luke and his wife Makayla with their child Lukas of Norman, sisters Carol Perry and Margie Barnes both of Oklahoma City as well as a host of nieces, nephews, cousins and other relatives and friends.

Visitation will be from 6:00 pm to 8:00 pm on Tuesday, December 5, 2017 at the Hudson-Phillips Funeral Home.

Funeral Services will be held at 1:00 p.m. on Wednesday, December 6, 2017 at First Baptist Church in Holdenville. Reverend Rob Lindley will officiate. Her grandsons, T.J. Treadwell, Jordan House, Jack Coppedge, Luke Coppedge, Price Rowe and Dustin Rowe will serve as pallbearers. Honorary bearers will b e Bryan Tapley, Mikie Robson, Christian A. House, Christian Centeno, and Andrew CJ House. Interment will follow at Holdenville Cemetery. Services under the direction of Hudson-Phillips Funeral Home. Online condolences to the family can be made at www.phillipsfuneralservice.com.

Previous Events
Visitation
Hudson-Phillips Chapel
301 E Main
Holdenville, OK 74848
Funeral Service
First Baptist Church
310 North Broadway
Holdenville, OK 74848
Burial
Holdenville Cemetery
13th Ave
Holdenville, OK 74848