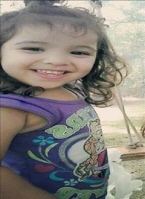 Obituary for Malinda Etriviann Jewel Lindley
Malinda Etriviann Jewel Lindley passed away on November 29, 2017 in Holdenville, Oklahoma. She was born on July 9, 2014 in Grove, Oklahoma to Paul Lindley and Lori Ann Moura Lindley.

Malinda was full of life and enjoyed swimming, playing in the dirt after a shower, hauling laundry in her Hello Kitty Jeep, rainbows, dinosaurs, giraffes and playing with her cousins. Malinda was a beautiful outgoing little girl who we will miss forever.

Malinda is preceded in death by her grandmother; Malinda Lindley, cousin; Kayden Lindley, aunt Hailey Grizzle and her great grandparents Debra and Tommy Grizzle, cousin Tyler Duffey.

She is survived by her parents Paul Leroy Lindley and Lori Ann Moura Lindley, siblings; Aldivine Moura, Etrivilae Moura, Christian Moura and Lucavi Moura, grandparents; Lipihner Theoplos, Lorence Moura, Paul Lindley and fiance Kim Crow and Linda Hanks, great-grandmother Betty Grizzle, aunts and uncles; Jessica Lindley and fiancé Winston Hanks, Desire Lindley, Destiny Green, Austin Green, Debra Green, Christopher Findley, Serenity Hanks, Etrihse Capelle and Griston Diopulos and a host of aunts, uncles, cousins and other relatives and friends.

Memorial service are scheduled for 2:00pm on Saturday, December 16, 2017 at Hudson Phillips Funeral Home, Holdenville, OK. Honorary pallbearers are Austin Green, Christopher Grizzle Findley and Griston Diopulos.

Previous Events
Funeral Service
Hudson-Phillips Chapel
301 E Main
Holdenville, OK 74848