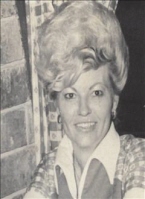 Obituary for Willie Dee Carlisle
Willie Dee Carlisle, departed this life on Tuesday, January 2nd, 2018 in Shawnee, OK at the age of 77 years. She was born March 19, 1940 in Sullivan County, Tennessee to the late George Jobe and Mallie (Goad) Jobe.

Willie was the owner of a Day Care for a number of years. She was of the Baptist faith. Her hobbies were sewing, gardening, and spending time outdoors. She loved to dress up and have her hair and make up done.

Preceding Willie in death are her parents; brothers, G. W. Jobe, Eugene Jobe, Luther Jobe, Robert Jobe, Buddy Jobe; Sister, Charlotte Sealock.

Survivors include 2 sons, Eddie Carlisle and wife Denise of Murfreesboro, TN, and John Carlisle and partner Heather Washburn of Wewoka, OK; 1 daughter, Sandra Carlisle of Dallas, TX; brother, Bobby Jobe of Indianapolis, IN, Sister, Mildred Head of Mountain View, Tennessee, seven grandchildren, twelve great-grandchildren, and a host of other relatives and friends.

Service will be held at a later date in Tennessee.