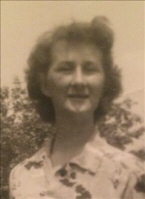 Obituary for Lucille Jane Edwards
Lucille Jane Edwards, age 81 of Wewoka, OK passed away Friday, December 29th, 2017 at her home in Wewoka, OK. She was born December 8, 1936 in Horntown, OK to the late Lester Horn and Furdonia Howse Horn.

Lucille married Daniel Alonzo Edwards, and he precedes her in death. She was of the Methodist faith and enjoyed spending time with her children, grandchildren, family and friends.

Preceding Lucille in death are her parents, first husbands, Haskell Streater, second husband Daniel Alonzo Edwards, and one brother James Allen Horn .

Survivors include children: Haskell Ray Streater of Texas, Daniel Allen Edwards Sr. of Wewoka, OK, Elizabeth Edwards of Holdenville, grandchildren; Mikael, Logan, Daniel, Hunter, Cheridan, Brittany, Tristin, Morgan, Kadan, Whitney, Chaz, Nat, Joey, Hayden, Braxton, Colt, Brooke, Dominick and Derick, great grandchildren; Mikael, Shayla, Mikenzie, Josef, David, Ryder, Alleigh, Remington, Ruger, Mason, Carter, Nicholas, Kirra and Jeremiah, one sister Phyllis Smith of Tuttle, OK and a host of other relatives.

Memorial service will be announced by Stout-Phillips Funeral Home at a later date.