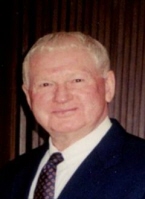 Obituary for Teddy Victor Tucker
Teddy Victor Tucker peacefully passed away from this life on Thursday December 28, 2017. He was born in Wewoka, Oklahoma on May 12, 1932 to Eukley Tink and Madge Lena Guest Tucker. He was raised on Dixie Lease in Wewoka. Teddy attended Compton Elementary School and graduated from Wewoka High School in 1950. Ted played linebacker for the Wewoka Tigers.
After graduation from high school, Teddy joined the 45th division of the National Guard as a medic. He was sent to Fort Polk in Louisiana for training and on March 1, 1951 he boarded a ship taking 30 days to reach Korea where he joined the 180th US Regiment for the U.S. Army. After the war ended, Ted enrolled in college at Oklahoma A&M in Stillwater where he graduated in 1955 with a bachelor's degree in geology.
Following graduation Ted went to work for Sinclair Oil Company as an onsite field geologist examining drilling samples. He watched wells in the panhandle of Oklahoma; Bogota, Columbia; Fairbanks, Alaska (working on one of the 1st "wildcat" wells drilled in Alaska) and Algiers, Algeria.
Upon retiring from Sinclair and moving back to Wewoka, he and his brother, Durward Tucker, became involved in the nursing home business. After final retirement, Ted loved being with is family and friends and attending NCAA wrestling championships where Ted loved rooting for his alma mater, OSU. Ted also loved attending the yearly Wewoka Alumni celebration representing the GOBFW and hosting the class of 1950 in his home year after year.
Ted leaves behind a host of family and friends. Donations can be made to the Wewoka Alumni Association, in memory of Teddy V. Tucker.
At Teddy's request there will be no service.