Obituary for Doyle Cook
Long-time Wewoka resident and oilman Doyle Cook passed away Wednesday, February 21, 2018 at St. Francis Hospital in Tulsa, OK after a brief illness.
He was born July 11, 1938 in Wewoka, OK to William Marion "Bill" Cook and Thelma Opal (Thomas) Cook. He was the fifth of the family's six children.
Doyle spent his youth growing up in the Dixie Lease area east of Wewoka where his father worked as a production supervisor in the oil field. It was here, among the sky-high derricks and raucous oil field camps, that Doyle developed a passion for the excitement and uncertainty of the oil game, a spiritedness that would guide him throughout his professional career.
While in high school, Cook began working alongside his father and brothers, James and Glenn, in the oilfield. He spent many hours toiling on pulling units and taking roughnecking jobs, learning all aspects of the profession. He graduated from Wewoka High School in 1956 where he also served as the quarterback for that year's 9-1 winning Tiger football team.
He married Patsy Taylor, his high school sweetheart, in 1958 in Holdenville, OK. Despite a less than auspicious start to the nuptials - a game of pool and a flat tire caused him to be late for his own wedding - the marriage was a loving and lasting one; Doyle and Patsy would have celebrated their sixtieth anniversary this April 4th.
When he was twenty, following the death of his father in an oil field accident, Doyle and his brothers took over their father's pulling unit and went head-long into the oil business. Some time afterwards, to earn additional money, and to gain professional work experience, Doyle took a job with B-J Services and moved to Odessa, TX where he and Patsy would remain for two years.
After returning to Oklahoma, Doyle earned his degree in Electronics from Oklahoma State University in Stillwater and continued to seek professional advancement out West, including a stint working for the National Nuclear Security Administration at Sandia National Laboratories in Albuquerque, NM.
While in Albuquerque, Doyle and Patsy welcomed their only child, a daughter named Kristin René.
In 1970, after having returned to Oklahoma to live in Tulsa, Doyle became a co-owner of Signet Controls, a firm that manufactured equipment used in the petroleum industry. The next year he became a partner in F&A Engineering Services, a multi-national company with over 200 employees in Tulsa, Houston, and Lafayette, LA. There, Doyle traveled nationally and internationally arranging oil and gas concessions.
In 1978 while still living in Tulsa, he formed the Wewoka-based Cook Oil Company to manage his personal petroleum interests. In what he described as "one of the happiest days of my life," Doyle and Patsy returned to Wewoka in 1985 and made their home. Cook continued to remain active in the drilling of new wells and the procuring of established oil and gas properties across the Seminole County and Southeastern Oklahoma region. Much of this was done in partnership with his brothers and his nephew, Kelly Cook.
A gifted and hard-working business man, Doyle enjoyed sharing his blessings with his family and his hometown. He and Patsy established a scholarship for graduating Wewoka seniors to provide assistance to students beginning their academic careers. He was active in the Wewoka-based Downtown Investment Group, was a supporter of Wewoka Public Schools, Wewoka Quarterback Club, the Wewoka Chamber of Commerce, Wewoka Sorghum Festival, the Seminole Nation Museum, and many, many other local organizations and community events.
One of Doyle's favorite ways of helping Wewoka was to gather each year with family and friends to make hundreds of "cheese apples" for the Seminole Nation Museum's annual Holiday Bazaar. Doyle and the rest of the "cheese apple gang" spent over three decades crafting the savory treats for the yearly fundraiser.
In October of 2003, Doyle was one of five area individuals that were honored for their success in the oil business as part of the Wewoka Sorghum Festival's "Boomtown" celebration. In 2011 Cook was recognized as the Oklahoma Oil Museum's Oil Man of the Year.
Doyle loved nothing more than to be surrounded by his family. He cherished a house-full of kinfolk and laughter at Christmas time and enjoyed being able to gather with the extensive - and extended - Cook clan at any opportunity. Doyle was a favorite of his many nieces and nephews and their ever-growing number of children and grandchildren, but he especially took pleasure in the time he spent with his grandson, Connor.
Doyle is survived by his wife Patsy of the home; daughter Kristi Boots and husband Steve of Seminole; grandson Connor Boots of Edmond, OK; sister Wanda Hensley of Wewoka; brother James Cook and wife Willene of Augusta, KS; brother Glenn Cook and wife Lucy of Wewoka; sister Shirley Clark and husband Preston of Cleveland, OK; sister-in-law Peggy Ellwanger of Wewoka; and a host of nieces, nephews, and long-time friends.
He was preceded in death by his mother and father; sister Hilda Cook Schmidt and husband Bill of Cincinnati, OH; and brother-in-law Robert Hensley of Wewoka.
Pallbearers will be Corky Cook, Kassidy Cook, Richard Ellwanger, Cole Hargus, Robert Clemmer and Connor Boots.
Honorary Pallbearers are the members of Wewoka High School class of 1956, The Breakfast Gang and M.J.'s Grill, and the members of the Morning Coffee Bunch.
Graveside services are 2:00 p.m. Monday, February 26, 2018 at Oakwood Cemetery in Wewoka under the direction of Stout-Phillips Funeral Home.
In lieu of flowers, the family requests contributions be made in Doyle's name to a Memorial Fund at the Seminole Nation Museum in Wewoka or to a charity of your choice.
Services are under the direction of Stout-Phillips Funeral Home.

To send flowers or a remembrance gift to the family of Doyle Cook, please visit our Tribute Store.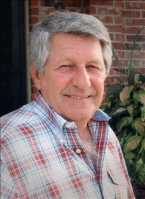 Thank you for sharing your
memory of Doyle
Provide comfort by sending fresh
flowers from our local florist.
No thanks, please don't show me this again.